If you are in the market for a budget-friendly reverse hyper machine, then you've probably explored the Westside Scout Reverse Hyper. This foldable reverse hyper comes at a significantly lower price than any other reverse hyper machine. But does that lower price tag mean it lacks features? Our Westside Scout Reverse Hyper review will break down the good and bad of this piece of equipment.
Westside Scout Reverse Hyper Review
Stability
My biggest concern with purchasing the Westside Scout Reverse Hyper was that the smaller frame would result in too much instability. While the Scout Hyper is less stable than the Rogue Z-Hyper because of its 1" by 3" frame and lighter weight, stability has not been an issue for me.
It will wobble side to side, but fortunately, lateral stability doesn't impact performing reverse hypers. As you swing, the Scout Hyper slightly leans back, resulting in the front feet slightly unloading. But again, this hasn't impacted my ability to use it.
Ease of Moving
The biggest reason I purchased the Westside Scout Reverse Hyper is that I needed to move it around easily. Not only does the reverse hyper easily fold up, but it only weighs 86 lbs when not loaded. That combination makes moving the Scout Hyper easy.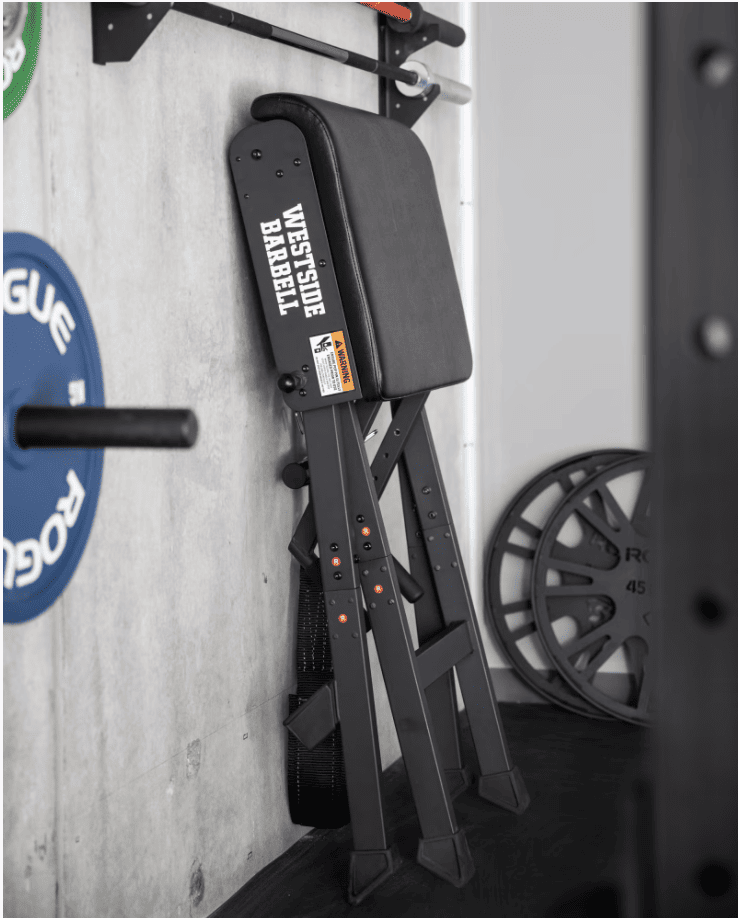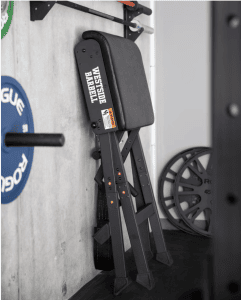 Footprint
The Westside Scout Reverse Hyper's footprint is 60" x 27.5" when unfolded but will reduce to only 8" deep when you fold it up. So when not in use or when more space is needed, this RH quickly gets out of the way.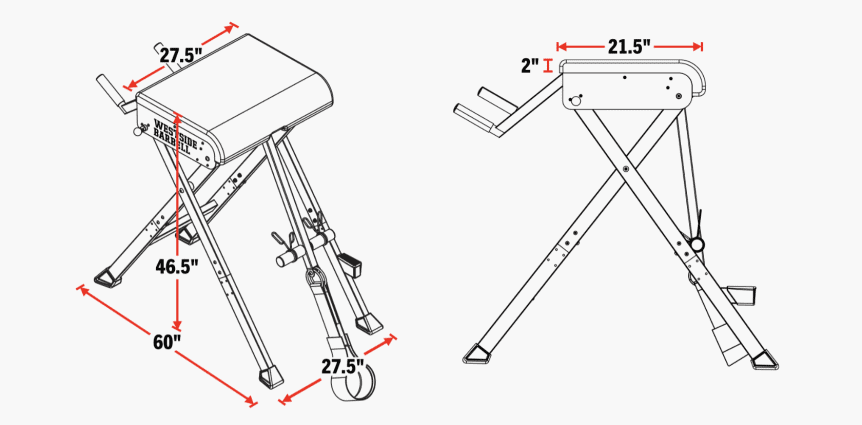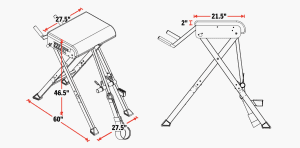 Height
Another concern of mine with the Westside Scout Reverse Hyper was the height of the machine. Since I utilize it with a wide range of patients, I was concerned that my taller athletes wouldn't be able to exercise on the machine. But I've had athletes as tall as 6'5" use it without issues.
Loading Capacity
Here's the biggest drawback to the Westside Scout Reverse Hyper. The collars are only about 5 inches wide. This means that depending on your plate types, your loading capacity could be limited.
I have thick, non-competition-style bumper plates in my clinic. That means I can only load a 45lb and 25lb bumper plate on each side and still fit a collar on the sleeve. So, my max capacity is set to 140 lbs.
This might not be an option if you have thin, calibrated plates. But this must be considered for stronger athletes with thick plates. Measure the width of your plates before purchasing to ensure you can load the Scout Hyper enough to suit your back strength needs.
Westside Scout Reverse Hyper Price
The price of the Westside Scout Reverse Hyper is probably its most significant selling point. When writing this article, it costs $395 plus shipping. This price is considerably cheaper than any other reverse hyper on the market.
Rogue's Z-Hyper costs $915, and even Titan Fitness' Reverse Hyper will cost you $750.
Westside Scout Reverse Hyper Review Conclusion
This RH machine is a great deal! It costs significantly less than any other RH option while still being a solid piece of equipment.
If money and space aren't a limitation, especially for stronger athletes needing more loading capacity, then the Rogue Z-Hyper or Titan RH might be better options. But for most of us not wanting to break the bank, the Westside Scout is well worth picking up.